SALON TODAY MAGAZINE DESIGN CONTEST 2020
CONGRATULATIONS TO OUR WINNERS!
We are excited to share that two of our salon owner's entries were selected as Salon of the Year by Salon Today Magazine for the 2020 design contest.  Karen Joseph Salon of Redbank NJ and Vision of Tomorrow of Larchmont, NY both won Salon of Distinction.  Michele Pelafas, Inc. has a history of creating award winning designs that place in the Salon of the Year contest held each year.  We are a beauty design and furniture company specializing in creating beauty environments for hair salons, nail spas, medical spas and beauty boutiques. 
There are many factors that go into creating an award winning design and a salon of the year. As you can imagine, it is not just about creating a beautiful interior. Our interiors have a unique aesthetic and are designed for productivity and profitability with salon furniture, lighting, materials and finishes that lend themselves to award winning designs. We take a holistic approach to these designs drawing upon human factors so that both the guest and the staff are comfortable which helps with effectiveness and productivity. We implement the essential details that draws new business and helps retain existing clientele because of our inviting look, feel and relaxing atmosphere, leading to incremental revenue and profits.
"THESE AWARD WINNING SALONS NOT JUST DESIGNED FOR THEIR LOOKS BUT FOR FUNCTIONALITY, PRODUCTIVITY AND PROFITABILITY."
With little time to re-book elsewhere, and limited availability with the flood of travelers converging on Miami for Art Basel, we were determined to make it happen. Our concierge recommended several spas in the area and we called all of them. Thankfully, The Bamford Haybarn Spa had a couple of openings and came highly recommended. We booked sight unseen which is a big thing for me. As a spa designer, the spa environment plays a big role in where I visit. Yet, in this moment, I just needed a good massage!
I learn that the Bamford Haybarn Spa was located in the 1 Hotel South Beach, a hotel that represents the ultimate in luxury hospitality. I am excited to experience the environment of the 1 Hotel in South Beach that pays homage to the natural landscape of South Florida vs the Art Deco stereotype. Yet, I had no expectation for the design or experience that we would have at the Bamford Haybarn Spa located in that hotel. I was definitely curious.
Hours later, we enter 1 Hotel into a world that transports us from the razzle dazzle of Collins Avenue to an eco-conscious and relaxed peacefulness that makes up the architecture of the hotel. To add to the experience, significant art pieces are spread throughout the space in typical Art Basel fashion. It is an amazing treat for the eyes. We watched as giant canvases took over the space and filled the hotel with artfulness and anticipation of what was to come.
Not to be delayed, we take the elevator to the third floor and down a corridor to the spa as instructed. As we turn the corner, we are greeted by a large heart at the spa façade and we peek inside the reception area that glows outwardly into the corridor. Okay, now the Bamford Haybarn Spa had my attention. I walked in and said out loud: "This is seriously cool!" (Recognize the one liner from The Holiday?). At this point, Anita and I were giddy. We checked in, changed into our robes and I set out to explore the interior while Anita quickly nestled into the comfy loungers.
It is easy to connect the spa interior design with the Bamford Haybarn philosophy which takes its inspiration from the English Countryside haybarns in Costwolds and nature. Throughout the spa you will find over-sized hand-carved wooden barn doors, rustic branches and full-length, feature tree trunks. You can't miss the playful integration of organically designed hearts that were strategically designed into the architecture to represent their heartfelt connection with nature. I counted at least 10 and they made me smile every time I saw one.
As I immersed myself into the environment and then, soon thereafter, my 90-minute deep tissue massage, I finally began to relax. A lot. As I let go, I was truly present. And then I let go more. The significance of being at peace with myself, one with nature, pampered and cared for was overwhelming and I experienced a silent unexpected flood of emotion. Is this what nurturing the mind, body and spirit was all about? Letting go? It felt like I had an out of body experience during my massage which has never happened to me before. I imagine that this was the transformation and rejuvenation that I had been so desperately needing.
Anita and I finished up the day with dinner at Pao by Paul Qui at the Faena Hotel. We were relaxed, happy and excited about our day, a day that had unexpectedly brought us to the Bamford Haybarn spa. As I took in the senses that night of all of what Miami had to offer, I thought about my new appreciation for the heart symbol that is synonymous with affection, understanding, compassion and life. A denotation of love. A caring for others, nature, the spirit and, very importantly, yourself.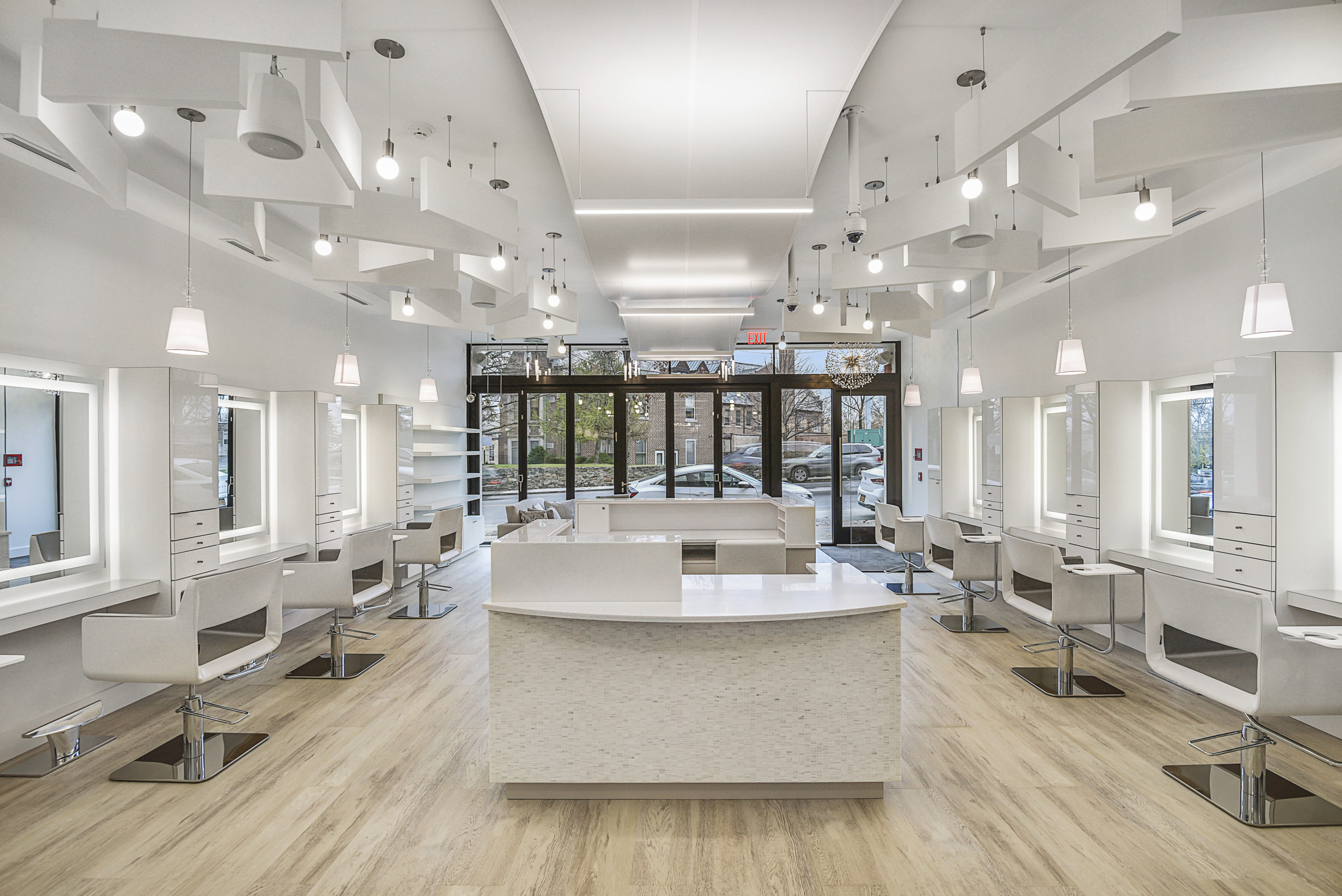 VISION OF TOMORROW
LARCHMONT, NY – OWNERS PINA, MICHELLE + MICHAEL CIRILLO
"WE WERE EXTREMELY IMPRESSED WITH HOW MUCH CARE WENT INTO YOUR PREPARATION AND THE CREATION OF OUR OWN UNIQUE CLIENT CENTRIC BRAND. YOUR WORK IS TRULY AMAZING, MICHELE. WHAT AN INCREDIBLY PROFESSIONAL AND TALENTED TEAM."
KAREN JOSEPH SALON
REDBANK, NJ – OWNER KAREN ZERBO